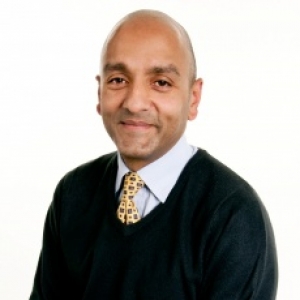 Professor Faisel Khan
Deputy Head of Systems Medicine Division, Professor of Cardiovascular Sciences
Vascular and Microcirculation Research
Send Email
Professor Faisel Khan is the Deputy Head of the Systems Medicine department and a Professor and Clinical Scientist whose research programme focuses on the role of the endothelium in early development and progression of cardiovascular disease.
A key aspect of his research is to bridge basic science and clinical medicine by forming a better understand of the underlying signalling pathways involved in development of cardiovascular disease. Since 2008, he has attracted £7.7 million in research funding and published 42 papers in high quality journals including Nature Review Rheumatology, JAMA, Clinical Science, Free Radical Medicine Biology, Arteriosclerosis Thrombosis & Vascular Biology, and Journal of Internal Medicine.
He currently serves on several committees and is a Member of the Council of Vascular Medicine, Royal Society of Medicine, a Member of Chief Scientist Office's Experimental and Translational Medicine Research Committee, a Member of Scientific Advisory Board ME Research UK, National Delegate for UK in the Administrative Board of the International Union of Angiology. Other activities include Regional Editor International Angiology, Editorial Board Microcirculation, and Editorial board European Journal of Vascular Medicine
His other current academic roles include Programme Lead for the BSc in Medical Science degree, Programme Co-Lead for the Intercalated BMSc degree, and External Examiner for the MSc Medical Ultrasound at Imperial College London.
Impact of Research
Translational research programme leading to better identification of early markers of cardiovascular disease risk and unravelling underlying pathways of disease that can be targeted for development of new treatments and direct patient impact.
Development of a model for in vivo assessment of endothelial function to better understanding pathways of cardiovascular disease.
A few of Professor Faisel Khan's Publications
Beveridge LA, Struthers AD, Khan F, et Effect of Vitamin D supplementation on blood pressure: A systematic review and meta-analysis incorporating individual patient data. JAMA Internal Medicine 2015; 175(5): 745-754.

This study examined the results from many studies to see if vitamin D supplementation lowers blood. Vitamin D supplementation was found to be ineffective for lowering  blood pressure and should not be used as a form of treatment for high blood pressure.

Goncalves I, Bengtsson E, Colhoun HM, Khan F, et Elevated plasma levels of MMP-12 are associated with atherosclerotic burden and symptomatic cardiovascular disease in subjects with type 2 diabetes. Arteriosclerosis Thrombosis and Vascular Biology; 2015; 35(7): 1723- 1731.

The enzyme matrix metalloproteinase (MMP)-12 plays an important role in making fatty plaques in blood vessels. The investigation identified MMP-12 as a potential marker of problems of blood vessels disease in patients who have type 2 diabetes and a possible target for treatment.

Shore A, Colhoun H, Natali A, Palombo C, Östling G, Aizawa K, Kennbäck C, Casanova F, Persson M, Gooding K, Gates P, Goncalves I, Khan F, Looker H, Adams F, Belch JJF, Pinnola S, Venturi E, Morizzo C, Nilsson Measures of atherosclerotic burden are associated with clinically manifest cardiovascular disease in type 2 diabetes: a European cross-sectional study. Journal of Internal Medicine 2015: 278(3):291-302. IF 6.06 (12/154, Q1).

This study indicates that patients who have type 2 diabetes and heart and blood vessel problems show signs of increased thickness in the walls of their blood vessels in the neck. Measuring the thickness of the wall of these blood vessels could be a useful way to follow the progression of blood vessel disease in such patients.

Witham M, Kennedy G, Belch J, Hill A, Khan F. Association between vitamin D status and markers of vascular health in patients with chronic fatigue syndrome/myalgic encephalomyelitis (CFS/ME). International Journal of Cardiology 2014; 174(1): 139-140.

This study showed that there was a relationship between low levels of vitamin D and poor function of blood vessels in patients who have chronic fatigue syndrome/myalgic encephalomyelitis (CFS/ME). Supplementing with vitamin D might be a possible way to improve the function of blood vessels in these patients.

Khan F, Ray S, Craigie AM, Kennedy G, Hill A, Barton KL, Broughton J, Belch Lowering of oxidative stress improves endothelial function in healthy subjects with habitually low intake of fruit and vegetables: A randomized controlled trial of antioxidant- and polyphenol-rich blackcurrant juice. Free Radical Medicine Biology 2014; 72: 232-237

This study showed that consumption of blackcurrant juice drink high in vitamin C can decrease levels of oxidative stress (which can be harmful to blood vessels) and improve the function of blood vessels in people who consume low amounts of fruit and vegetable in their daily diet.