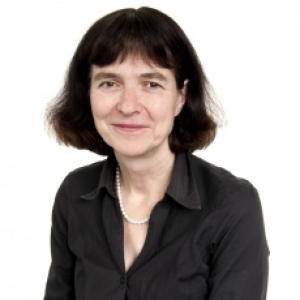 Professor Annie Anderson
Professor of Public Health Nutrition
Applied Nutrition
Send Email
Professor Annie Anderson trained in nutrition and after two years clinical dietetic practice in Cambridge moved to an academic career.  Following a PhD at the University of Aberdeen and research posts at the University of Glasgow and the MRC Medical Sociology Unit, she was appointed to a Professorial position in the University of Dundee in 1996.  In 2013, she was elected to Fellowship of the Royal College of Physicians of Edinburgh.
Her current research areas focus on theory based, behaviourally focused, dietary and obesity (population and individual) interventions aimed at chronic disease risk reduction.
Professor Annie Anderson has undertaken a number of international and national roles including advisor to WHO expert group, chair of the grant panel for the Population Health Services Research Committee Research Awards, Health Research Board (Ireland).
She is a member of UK Scientific Advisory Committee on Nutrition (SACN) and work stream lead for health and sustainability in Scotland's national food and drink policy (Scottish Government).  She was Chair of the Scientific Committee of the National Prevention Research Initiative (NPRI) (Medical Research Council) from 2012 to 2016.  She is President-elect of the UK Society for Behavioural Medicine.
Since 1994 Professor Annie Anderson has been awarded over 90 research grants from International, national and local funding agencies ranging in value from £700 to £1.2 million (including MRC, CRUK, Food Standards Agency, and Scottish government).  Her 200+ peer reviewed papers and chapters are matched by an equal number of communications on science for the public including national television, radio, newspapers, social media blogs and public lectures.  Her recent work on combining lifestyle interventions with disease screening has been highlighted by the Scottish Government for roll out.
Professor Annie Anderson's Publications
Lauby-Secretan, Scoccianti, Loomis D, Grosse Y, Bianchini F, Straif K (2016) Body fatness and Cancer – Viewpoint of the IARC Working Group (Anderson AS, Baker JL, Breda J, Byers T, Cleary MP, Colditz G, Di Cesare M, Gapstur SM., Herbert RA, Hursting SD, Kaaka R, Leitzmann M, Ligibel J, Renehan A, Romieu I, Shimokawa I, Thompson HJ, Ulrich C, Wade K, Weiderpass E) New England Journal of Medicine 375:8 794-798 –798.

Whilst the role of obesity in cardiovascular disease is well know the importance of obesity in at least 13 cancers is described as well as the role of excess body fat in early life and evidence for risk reduction through weight management.

Hunt K, Wyke S, Gray CM, Anderson AS, Brady A, Bunn C, Donnan PT, Fenwick E, Grieve E, Leishman J, Miller MA, Mutrie N, Rauchhaus P, White A, Treweek S (2014) Football Fans in Training (FFIT): a pragmatic randomized controlled trial and cost effectiveness analysis of a gender-sensitised weight loss and healthy living programme delivered to overweight and obese men aged 35-65 by Scottish Premier League (SPL) football clubs. Lancet. 2014;383(9924): 1211-21.

This paper reports a novel and successful weight loss intervention in men from a wide range of social classes. The work continues es to roll out witinh Scottish League football clubs.

Anderson AS, Craigie A, Caswell S, Treweek S, Stead M, Macleod M, Daly F, Belch J, Rodger J, Kirk A, Ludbrook A, Rauchhaus P, Norwood P, Thompson J, Wardle J, Steele RJC (2014) – The impact of a body weight and Physical Activity weight loss intervention (BeWEL) initiated through a national colorectal cancer screening programme. British Medical Journal ;348:g1823

This study highlights the role of "teachable moments " for successful lifestyle intervention which impact on body weight CVD and diabetes risk s factors.

Anderson AS, Macleod M, Mutrie N, Sugden J, Dobson H, Treweek S, O'Carroll RE Thompson A, Kirk A, Brennan G and Wyke S (2014) Breast cancer risk reduction – is it feasible to initiate a randomised controlled trial of a lifestyle intervention programme (ActWell) within a national breast screening programme? Int J Behav Nutr Phys Act. 2014 Dec 17;11:156

This paper has been cited by Scottish Government in their 2016 Cancer Strategy with a commitment to fund a full trial and roll out lifestyle interventions cross all breast screening clinics in Scotland.

Steele RJ, Anderson AS, Macleod M, Craigie AM, Caswell S, Belch J, Treweek S; The BeWEL team (2015) Colorectal adenomas and diabetes : implications for disease prevention Colorectal Dis. Jul;17(7):589-944

The relationship between cancer, CVD and diabetes provides opportunities for lifestyle interventions within cancer screening for chronic disease prevention.