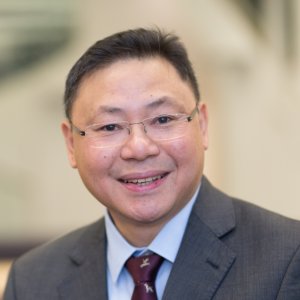 Professor Chim Lang
Head of Molecular &
Clinical Medicine Division, Professor of Cardiology
Cardiology
Send Email
Professor Chim Lang is the Head of Molecular and Clinical Medicine department, a consultant cardiologist and clinical pharmacologist and Professor of Cardiology at University of Dundee. He trained in both cardiology and clinical pharmacology in the UK and in the USA, where he was a Merck Fellow at Vanderbilt University, Nashville, and a Fulbright Scholar at Columbia University, New York. His patient-oriented research takes a multidisciplinary approach to the understanding of the pathophysiology of heart failure and cardio-metabolic diseases. He leads an integrated cardiovascular research laboratory dedicated to translational research and in the development of biomarkers and novel treatment strategies in patients with cardiovascular diseases. He is and has been involved in the editorial boards of several scientific journals including Cardiovascular Therapeutics (Joint Editor-in-Chief), Heart (Associate Editor)and Clinical Science (Associate Editor) and Current Clinical Pharmacology. He is Chair of the Heart Failure Working Group of NHS Tayside.
Impact of Research
In the REF 2014, Dundee put forward two impact cases from Professor Struthers and Professor Chim Lang on their research on BNP (BNP as a Diagnostic and Risk Stratifying Test in Cardiology) and Spironolactone (Spironolactone as a Treatment to extend life in Heart Failure Patients). Both impact cases were scored at the highest level of 4-star and helped the University of Dundee to be ranked first in the UK for 'impact' in Clinical Medicine.
Professor Chim Lang's research on the use of ACE inhibitors in aortic valvular disease was used as supporting evidence for the recommendation for the use of ACE inhibitors in patients with aortic valvular heart disease in the 2014 American Heart Association /American College of Cardiology Guidelines for the Management of Patients With Valvular Heart Disease.
A few of Professor Chim Lang's Publications
MA Nadir; DH Elder; Li Wei; R Libianto,TK Lim, M Pauriah, SD Pringle, AD Doney; AM Choy; AD Struthers; CC Lang. Impact of Renin-Angiotensin System Blockade Therapy on Outcome in Aortic Stenosis. J Am Coll Cardiol 2011 Aug 2;58(6):570-6.

This study provided the underpinning evidence supporting the use of ACE inhibitors to treat hypertension in patients with aortic stenosis

JGF Cleland, JR Teerlink, R Senior, EM Nifontov, JJV Mc Murray, CC Lang, et al. The Effects of the Cardiac Myosin Activator, Omecamtiv Mecarbil,on Cardiac Function in Patients with Heart Failure. Lancet 2011; 378: 676-683.

This is a proof of concept study' of a new heart failure medication that helps to make the heart to pump more effectively. It is the underpinning study that led to the successful COSMIC trial.

Elder DH, Li Wei, BR Szwejkowski, R Libianto, A Nadir, M Pauriah, S Rekraj, TK Lim, J George, A Doney, SD Pringle, AM Choy, AD Struthers, CC Lang. The Impact of Renin Angiotensin Aldosterone System Blockade on Heart Failure Outcome and Mortality in Patients identified to have Aortic Regurgitation: A Large Population Cohort Study. J Am Coll Cardiol 2011;58(20):2084-91.

This study provided the underpinning evidence supporting the use of ACE inhibitors to treat heart failure in patients with aortic regurgitation

Singh JS, Fathi A, Vickneson K, Mordi I, Mohan M, Houston JG, Pearson ER, Struthers AD, Lang CC. Research into the effect Of SGLT2 inhibition on left ventricular remodelling in patients with heart failure and diabetes mellitus (REFORM) trial rationale and design. Cardiovasc Diabetol. 2016 Jul 15;15:97. doi: 10.1186/s12933-016-0419-0.

This paper provides the rationale and details of our proof of concept trial of repurposing the diabetic drug class, SGLT2 inhibitor, for use in patients with heart failure.

Cameron AR, Morrison VL, Levin D, Mohan M, Forteath C, Beall C, McNeilly AD, Balfour DJ, Savinko T, Wong AK, Viollet B, Sakamoto K, Fagerholm SC, Foretz M, Lang CC, Rena G. Anti-Inflammatory Effects of Metformin Irrespective of Diabetes Status. Circ Res. 2016 Aug 19;119(5):652-65.

This is an award winning paper that describes a novel anti-inflammatory effect of the diabetic medication, metformin that can potentially be utilized to treat inflammation in cardiovascular disease.